What are the relics?
On 18th April 1925, forty-six years after her death, the body of Bernadette Soubirous was exhumed so that relics could be retrieved.
This mission was entrusted to Doctors Comte and Talon. Doctor Comte took the first samples from the body which "was of a soft and almost normal consistency", he wrote in 1928 in the Bulletin of the Medical Association at Our Lady of Lourdes.
On 14th June 1925, Pius XI proclaimed Bernadette Soubirous "Blessed". Her body was then transferred to its current shrine in Nevers on 18th July 1925.
On 8th December 1933, Pope Pius XI canonized Saint Bernadette, and her feast day is celebrated in the world on 16th April – day of her passing. France celebrates the feast day on the 18th of February.
The "Original Acts", preserved in the Archives of Nevers and written in Latin, indicate that taken for the relics were:
A fragment of the 5th rib
A fragment of the 6th rib
The kneecaps
A sample of muscle, from the external part of the right femur
Lots of hair
And various fragments which came from muscles and skin
The conservation and attribution of these relics were entrusted to the Congregation of the Sisters of Charity of Nevers, under the vigilance of the Bishop of Nevers.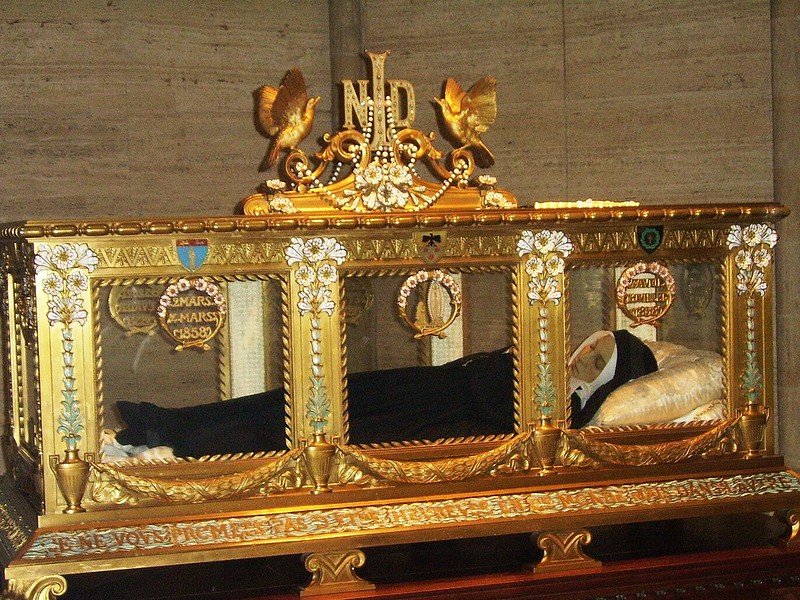 These relics were given, in the form of ex-carne or ex-ossibus fragments, by the Sisters of Nevers, to various houses of their Congregation.
The relic in the reliquary, which is travelling through France and abroad, is an ex-carne relic, given to the Congregation of the Missionaries of the Immaculate Conception (Fathers of Garaison), founded in 1836. A From 1866, it was this congregation which managed the Sanctuary of Lourdes, at the request of Mgr. Laurence, Bishop of Tarbes.
In 2018, the Very Reverend Father Horacio Brito, Superior General of the Missionaries of the Immaculate Conception entrusted this relic to the Sanctuary of Lourdes. It is now in the reliquary made in Spain by the Maison Granda workshop. This reliquary was solemnly unveiled in Lourdes on 30th May 2019.