Cathedral of Mary Our Queen
Baltimore, MD
May 12th to 15th
St. Bernadette visited the Cathedral of Mary Our Queen in Baltimore Maryland. The feeling of reverence was felt by all who came, and by the Order of Malta, who supervised the visit.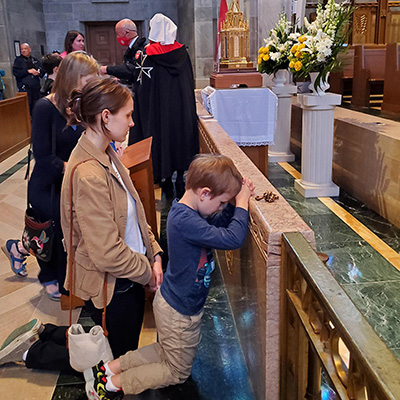 The innocence and purity of St. Bernadette was reflected in a little boy who venerated the relic, and then went to kneel at the communion rail, placing his rosary next to his folded hands. It seemed as if he were drawn into the beauty of St. Bernadette, focused on something or someone who was beyond the range of vision.
"I felt I was in Lourdes," shared Julia Stamerro, DM of the Order of Malta, Baltimore Region. "The reverence of the families that came with disabled children to venerate the relics was profound. One woman who hadn't been to confession in 60 years told me she felt as if a huge burden had been lifted off of her." The Order of Malta volunteers were joined by student volunteers from Maryville High School.
Archbishop William E. Lori celebrated the mass at 5:00 p.m. on Saturday May 15th. Fr. Lou Bianco, Rector of the Cathedral, celebrated the 11:00 a.m mass on Sunday, May 16th. Over 8000 people came to the Cathedral over the three-day visit.