Our Lady of Lourdes
Denver, CO
"It was one of the best Catholic experiences I have had in my life," shared Father Witold Kaczmarczyk, Parochial Vicar at Our Lady of Lourdes, Denver. "It was also the 75th anniversary of our parish, so we had a very big celebration," continues Father Kaczmarczyk.
"We received the relics at 1:00 a.m. on Sunday morning. St. Bernadette is a woman, so she was running a little late. On Sunday, all the masses were full. People came from Nebraska, Utah, New Mexico and Wyoming. There was a huge line waiting to venerate the relics and to receive confession at all times."
"On Monday, we had invited the Pastor of St. Bernadette in Denver, and his parishioners to join us", continues Father Kaczmarczyk. "There was a beautiful candlelight procession to the grotto. On Tuesday, we had mass, the Rosary, the Angelus and the Litany of St. Bernadette. Bernadette rochaska, our Music Director, coordinated everything and she did an excellent job."
"Miracles happened throughout. We needed a cake for the celebration, and one of our parishioners who owns a Polish Bakery, prepared a beautiful wedding cake for us in a matter of hours. Our parish is growing rapidly under the guidance of our Pastor, Father Brian Larkin. It was just beautiful to have St. Bernadette here for all of us."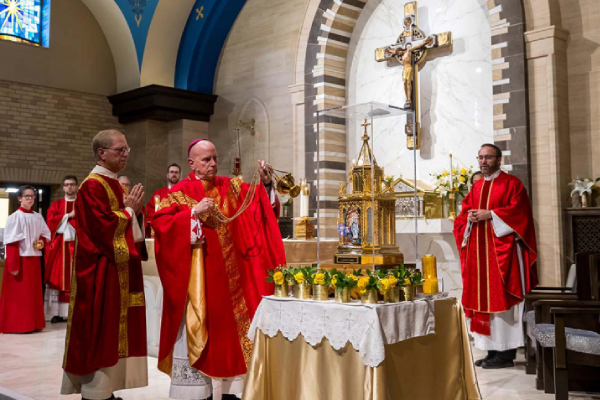 Click the image above for more pictures.